Several fans of the Super Mario Maker are gearing up to create their own stages and share them with other fans in the world. So far there is no playable demo available in the eShop but if the gamers live near any of the Target stores then they can get lucky to get a taste of the game before the official launch.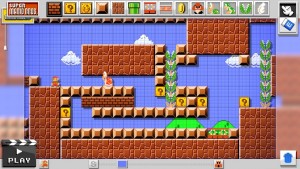 Online reports have said that a Super Mario Maker playable demo is now available in some of the Target Stores. Another report has mentioned that the demo allows the players to create various stages just like it happens in the final version of the game. However the demo is not really the way to experience the Super Mario Maker. Any of the created games are going to be lost, but the demo is good for those who want to get an idea on how the game works.
Even a Super Mario Commercial has surfaced online and the short video has showcased a tricky underwater stage, which needs a bit of skill to be completed. In Super Mario Maker, death is very near so the gamers have to focus while playing the stage that you have never completed before. A short trailer has already been released earlier this week.
Photo Credits: ytimg